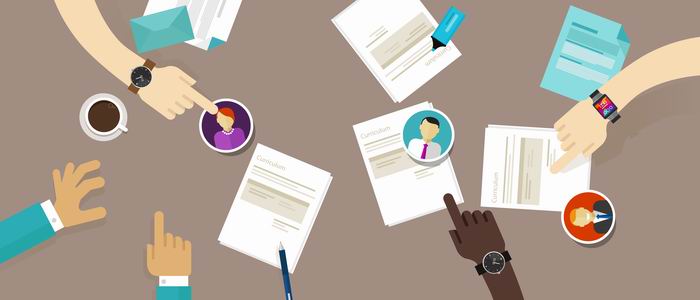 PEOPLE ARE NOT "PACKAGES"
—silver, gold, platinum or whatever. People are
individuals
, with individual situations and individual needs. That's why I don't sell packages. I help people, as individuals, develop the resumes and cover letters that will get them a shot at the opportunities of interest to them. I also help them with
interview training
, when they want it.
A resume and cover letter do not get you a job. What they can do, if they are well crafted, is get you a chance at getting the job
—in other words, get you an interview. After that, it's up to you. (A resume may also be needed as part of an application to a graduate or professional program, in which case its important to coordinate it with another critical element of your application package, your
personal statement
.)
You are competing with others, as depicted in the image above. So you need to be competitive.
You need to present yourself in the best light possible, making yourself attractive to those who are selecting applicants for interviews. That's what I've done over the years for countless job seekers and what I can do for you:
make you look good
to the people doing the screening, bringing to bear my expertise with both words and design (few resume writers have both). I do that by helping you create your very own SOLID GOLD RESUME. See my dozens of five-star reviews on
Google
and
Yelp
, where I am the highest reviewed writer in my area.
The difference between a first-rate resume and one that is something less than that can easily mean the difference between getting the job you want and not getting it
, the difference between getting hired at a so-so wage and getting hired at a much better one, the difference between doing what you love to do—a career opportunity you can be truly excited about—and one that at best leaves you uninspired. That's why a first-rate resume is so valuable. That's why the domain name for this page is
SolidGoldResumes.com
.
It all starts with a conversation.
EMAIL
ME (Dan@SolidGoldResumes.com) to
tell me about your situation and your needs
. That could be nothing more than a short paragraph, two or three sentences. I'll respond with a choice of options. Maybe your budget is limited and you need to get the job done for next-to-nothing or less than $100, so I will give options for that, too. Just drop me a line now, to get started. I'm often able to respond within minutes.